Food Additive Regulatory Compliance Service in China
Background



There are 22 allowed food additive categories and more than 2000 varieties food additives in China at present. As an essential material in food industry, the quality and safety of food additives are also of concern. With the implementation of GB 2760-2014 (the usage of food additives) and GB 29924-2013 (General rules for labeling of food additives), the requirements for food additives usage and their Chinese label are more comprehensive.



What is food additive?



Food additive refers to an artificially chemosynthetic or natural substance to be added to foods in order to improve food quality, color, fragrance and taste, and for the purpose of preservation and processing technology. Flavoring substances, gum-based substances in the paste base candy, processing aids in food industry are also included in food additives.

Related laws, regulations and national standards(Please click regulation names to download)



Product regulatory compliance procedures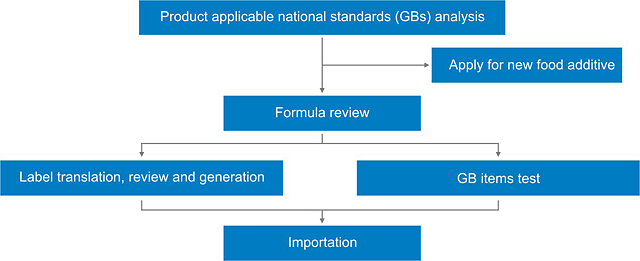 Our Service


Food additive applicable Chinese national standards (GBs) analysis
Food additive formula review
Food additive Chinese label translation, review or generation
Food additive GB test
New food additive application
Other customized services
S.N.
Items
Services
1
Product national standards (GBs) analysis
Evaluate the product category and find an applicable Chinese national standards (GBs) based on the formula, production process and etc.
2
Formula review
Analyze if all materials are allowed to be used in this product.
3
Chinese label translation, review, or generation
1. Label translation
Translate the original information to Chinese information.
2. Label review
I. Check if the Chinese label provided by client is compliant in China.
II. Provide modification and risk-aversion suggestions.
3. Label generation
I. Translate necessary information on original label to Chinese.
II.Generate Chinese label according to GB 29924-2013 and other related standards, such as add mandatory content or remove risky content.
III.Check the label to make sure it is compliant, and provide risk-aversion suggestions.
4
GB test
I. GB Test in a qualified lab is necessary to guarantee the product quality and avoid unnecessary rejection.
II.Conduct GB test in China can help to avoid method deviation.
III. CIRS will help to analyze the testing items according to related product national standards, and arrange the test in qualified collaboratory in China.
5
New food additive application

If a food additive is excluded in GB 2760, GB 14880, GB 29987 or NHFPC notices, it cannot be used unless getting through the new food additive application. CIRS could help to collate required documents, arrange test for you, and help you apply for new food additive under NHFPC.
6
Others
Ad-hoc consulting service and etc.
New food additive application
1. What are the required materials?
S.N.
Materials
1
Application form
2
Common name, functional classification, dosage and application scope
3
Materials demonstrated the technically necessary and using effect
4
Quality requirements, production process and test methods
5
Security assessment materials
6
Label and manual samples
7
Other materials contribute to safety assessment
8
Materials in item 2,3,4 do not involve trade secrets, which can be exposure to public
9
Industrial and Commercial Registration Certificate
10
Power of attorney (if needed)
If you would like to apply for expanding the dosage or application scope of the food additive, materials in item 5 can be exempted
If you would like to apply for new food additive with the first time to import, except materials above, you should also submit below materials
1
Official evidential materials that the food additive is allowed to manufacture or sell in original country or district
2
Official evidential materials provided by local authority or organization that the manufacturer is certificated
2. Service procedure of new food additive notification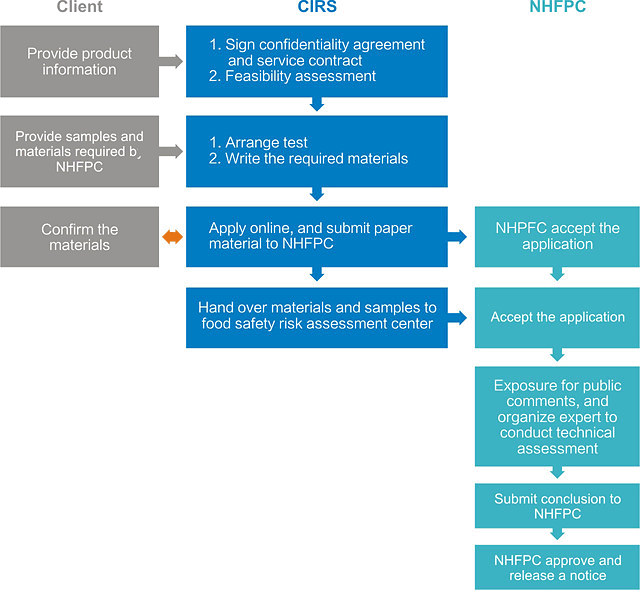 Contact us

Ms. Alice Yang, Food Safety and Regulatory Affairs Department, CIRS China
11F Dongguan Building, 288 Qiuyi Road, Binjiang District, Hangzhou, China, 310020
Tel: +86 571 8971 6579 | Fax: +86 571 8720 6533
Email: Alice.Yang@cirs-group.com