Updated on 10 Sep. 2021
The Act on the Registration and Evaluation of Chemicals (known as Korea REACH) passed the plenary session of the National Assembly in Korea on April 30, 2013 and has come into force on Jan 1, 2015. Dec. 2016, the Ministry of Environment (MoE) started to revise the K-REACH and the amended K-REACH came into force from 1 Jan. 2019.
The purpose of K-REACH is to protect public health and the environment through these provisions:
Registration of chemical Substances;
Screening of hazardous chemical substances;
Hazard and risk assessment of products containing chemical substances and hazardous substances;
Sharing information of chemical substance.
The Ministry of Environment (MoE) is responsible for the registration and evaluation of chemical substance under this Act.
According to the content of Korea REACH, we summarized some key dates as follows:
| | |
| --- | --- |
| 31 December 2030 | Deadline for registration of substances exceeding 1t/y. |
| 31 December 2027 | Deadline for registration of substances exceeding 10t/y |
| 31 December 2024 | Deadline for registration of substances exceeding 100t/y |
| 31 December 2021 | Deadline for registration of CMR substances exceeding 1t/y and substances exceeding 1000t/y |
| 30 June 2019 | Deadline for K-REACH pre-registration |
| 1 January 2019 | Commencement of the amended K-REACH |
| 1 July 2018 | End of grace period - PECs joint registration |
| 21 November 2015 | K-REACH: new substances notification leniency programme ends |
| 1st, July, 2015 | Release the 1st List of existing substances subject to registration under K-REACH |
| 30 June 2015 | Inform MoE of existing (TCCA) new substance hazard assessment results |
| 1 January 2015 | "K-REACH" comes into force |
| 31 March 2014 | Submission deadline: existing chemicals hazard and risk assessment-TCCA |
Scope of K-REACH
Korea REACH does not apply to:
Radioactive substances of the Atomic Energy Act;
Pharmaceuticals and non-pharmaceutical drugs of the Pharmaceutical Affairs Act;
Narcotics of the Act on the Control of Narcotics;
Cosmetics and materials of the Cosmetics Act;
Ingredients and agrochemicals of the Agrochemicals Control Act;
Fertilizers of the Fertilizer Control Act;
Food, food additives, tools, containers and package of the Food Sanitization Act;
Livestock feeds of the Act on Control of Livestock and Fish Feeds;
Ammunitions of the Act on the Control of Firearms, Swords, Explosives;
Military supplies of the Act on the Management of Military Supplies and of the Defense Acquisition Program Act (except for commercial goods under Article 3 of the Act on the Management of Military Supplies;
Health functional food of the Health Functional Food Act;
Medical devices of the Medical Device Act.
Personal care products of Act on the Safety of Personal Care Products.
Biocidal products of Consumer Chemicals and Biocide Safety Act.
Overview of K-REACH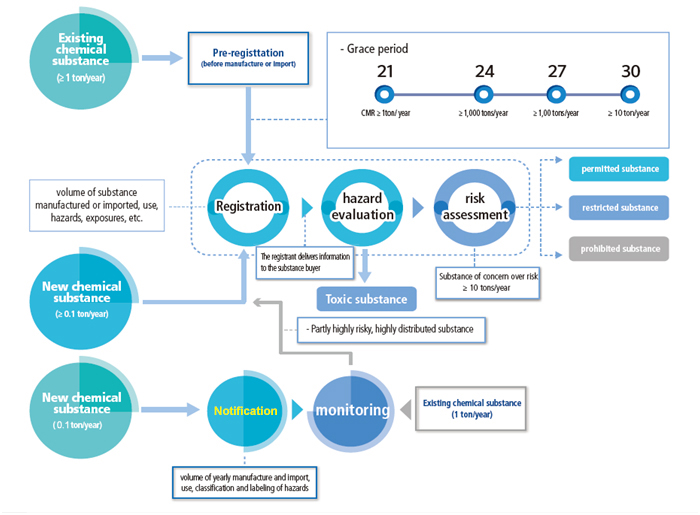 Pre-registration
In accordance with the requirements of the amended K-REACH, manufacturers/importers that manufactured or imported at least one ton per year of an existing substance between 2016 and 2018, shall submit application for pre-registration between 1 Jan. 2019 and 30 Jun. 2019. Enterprises that have completed the pre-registration can enjoy a corresponding registration grace period based on the tonnage band as well as the hazards of substances.
Up to 30 Jun. 2021, a total of 17,153 substances have submitted the applications for pre-registration under K-REACH, of which 78 are CMR substances, and 1,837 are exceeding 1000t/a. Up to the end of 2021, 1,906 substances shall complete full registration.
Grace Period
Under the amended K-REACH, grace period varies depending on the pre-registered tonnage and the hazard characteristics. Details are as follows:

It is worth mentioning that the grace period for CMR substances exceeding 1t/a and existing substances exceeding 1000t/a will be closed on 31 Dec. 2021. Related enterprise shall complete the full registration for these substances in advance or they will not be able to trade with South Korea from 1 Jan. 2022.
Currently, there are a total of 364 CMR substances. Enterprises may check whether their substances are CMR substances through CIRS Asia Pacific Chemical Inventory Search System.

Registration
Enterprises that intend to manufacture or import the following substances are obligated to complete K-REACH registration:
At least 0.1 ton/y of a new chemical substance;
Existing substances manufactured, imported or sold more than 1 ton per year;
New substances manufactured or imported at least 0.1 ton/y shall be registered prior to manufacturing or importation. A grace period (given to pre-registered substances) will be granted to existing substances to be manufactured/ imported at least 1 ton/y.
Similar to EU REACH, foreign manufacturers exporting chemical substances or products containing hazardous chemical substance into South Korea may appoint an Only Representative to fulfill relevant obligations under K-REACH.
View the registration process of existing substances under K-REACH below: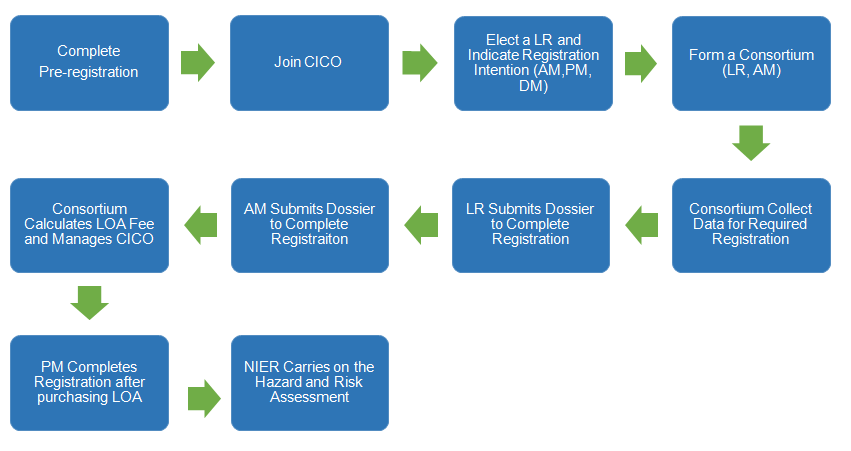 Definition of New Substances
A new substance is defined as a substance that is not on the following lists:
Chemical substances which were placed on Korean market before Feb. 2, 1991, and notified by the Ministry of Environment on Dec. 23, 1996; and
Chemical substances which have undergone the examination of toxicity under the former provisions or the provisions of this Act after February 2, 1991 and were announced by the Minister of Environment.
Registration Fee
The LOA fee for a substance with a lead registrant and consortium formed is as follows:
| | | |
| --- | --- | --- |
| LR/Consortium Management Organisation | NIER | OR (If needed) |
| CICO Management Fee+ Data Fee +CSR Fee | Administrative Fee (about 200 USD) | OR Service Fee |
If the lead registration of a substance has not yet been elected, it is suggested that related enterprises complete the registration as a LR. Main expense is as follows:
| | |
| --- | --- |
| Consortium Management Organisation | NIER |
| Consortium Management Fee + Data Fee + CSR Fee | Administrative Fee (about 200 USD) |
It is undeniable that the data fee and the management fee for a LR are quite high. But when there are other members join the joint submission, LR is able to sell LOA to the co-registrant to reduce cost.
The registration fee will vary depending on different substances.
Simplified Process under K-REACH
If the substance is not for consumer use or the substance is classified as low hazard or no hazard, a simplified registration will be available and the data fee can be partially exempted. However, if the substance is found to have health hazards or aquatic hazards, then related enterprises may need to supplement data.
Hazard Classification (Acute Toxicity)

The test data and the registration dossier shall be submitted together

Before Simplification

After Simplification

Substances with high risks

(Substances that do not fulfill the requirements of substances with low or medium risks)

Up to 47 items

13 Physicochemical data
15 Health toxicological data
19 Environmental and eco-toxicological data

Remain unchanged

Substances with low risks

Pictogram

Up to 33 items

13 physicochemical data
15 health toxicological data -5 environmental and eco-toxicological data

Substances with no hazard classification or pictogram

15 items
Recent Updates
Recently, the scope of existing substances in South Korea has also been revised. Details are as follows:
Hydrates or anhydrates of existing substances are all considered as existing substances;
Reaction products composed of two or more components, and each component is an existing substance (these components are difficult to separate by technical means, and the reaction product itself is distributed or used in the market). Under this circumstance, the reaction products are also considered as existing substances; and
If an existing substance has two or more configurations, then each specific configuration is regarded as an existing substance;
Substances listed in Annex 3, see detailed information of the substances
CIRS warmly reminds that related enterprises may re-check whether their substances are existing substances. Besides, as the registration system has not been updated, it's still not possible to submit pre-registration for the above four types of substances. But as long as the registration system is updated, related enterprises can submit pre-registrations and join CICO for joint registration.

Our Korea Chemical Compliance Services
K-REACH Only Representative
K-REACH Pre-registration
K-REACH Registration
K-REACH Lead Registrant Service
New Substance Inquiry
K-REACH Registration Exemption Application
Risk Assessment Report
Technical Support
Preparation of Korean SDS and label;
If you have any needs or questions, please contact us at service@cirs-group.com.